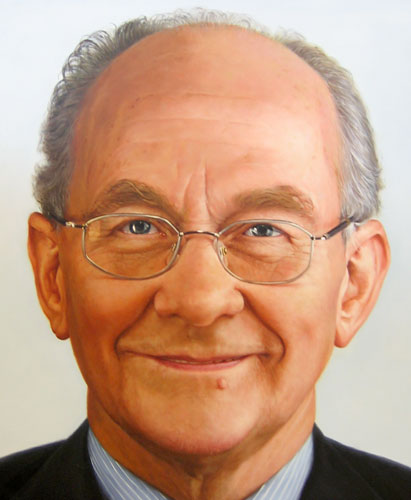 Netherlands
2002
Dr. Aad Jacobs is the former chairman of the Executive Board of ING Group, Netherlands. His 36-year career with ING culminated in his appointment as Chairman of the Executive Board in 1992, a position from which he retired in 2000.
Under his leadership, ING developed into a prominent financial institution enjoying a good reputation around the world. Mr. Jacobs played a critical role in the development of ING through a strategy of acquisitions. Included among the acquisitions were Barings, UK, Wellington, Canada, Bank Slaski in Poland, The Equitable of Iowa Companies in the U. S. and Bank Brussels Lambert in Belgium. Despite the complexity of the acquisition and the Belgian financial markets, Mr. Jacobs completed the acquisition without creating tension in the relations between Netherlands and Belgium.
His policies and leadership reinforced ING's international position and also had a positive impact on the image of the Netherlands in the financial world.
He devoted himself to the expansion of ING's prominent position in emerging markets. ING has built up banking and insurance operations in several countries in Asia, Latin America and Central and Eastern Europe. These operations make a significant contribution to the development of the financial sector and employment in t hose countries.
For the greater part of his career, Mr. Jacobs managed the investment operations of Nationale- Nederlanden, a company which always made substantial investments in the Dutch economy, and which was the predecessor company to ING. As an investor, he played a meaningful role in the privatization of Ballast Nedam as well as in several other major transactions. And he played a pioneering role in substantial financing projects.
Within the insurance industry, Mr. Jacobs has always been an advocate of making prudent provisions to protect policyholders. He emphasized the need for adequate provisions to cover the longevity risk.
Her Majesty Queen Beatrix appointed him Commander in the Order of the Netherlands Lion for his merits in the financial sector in the Netherlands and the Dutch society at large.