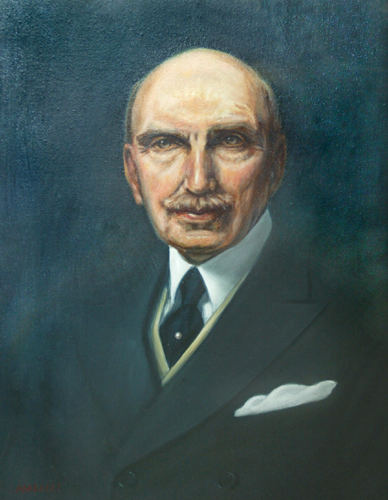 United Kingdom
1966
Mr. Cuthbert Heath has been called the Father of Modern Lloyd's of London. He was an underwriter, executive and founder of E. E. Heath & Co. Ltd. When he entered the room as an underwriter on his own account in 1883 at the age of 24, Lloyd's was known principally as a marine insurance market. Thanks to Heath, Lloyd's non-marine business eventually exceeded its marine market. He was hard of hearing, but he was encouraged by his family to pursue a career in insurance. Undeterred by his disability he became a marine underwriter at age 22.
He wrote Lloyd's first reinsurance contract for a fire insurance company. He then provided coverage for profit losses caused by fire. Other underwriters soon followed his lead. During an epidemic of burglaries in 1889, he began underwriting burglary insurance. This led to broadened protection under and "all-risk jewelry policy" on personal jewelry and to the commercially important "jewelers block policy." After the Employer's Liability Act of 1880, and the Workmen's Compensation Act of 1897 prescribed employer liability for work-related injuries, the Heath syndicate was the first to offer relevant coverage. He fostered the growth of aviation insurance.
He was the first underwriter to develop retail insurance. When a smallpox epidemic struck Britain, he offered individuals insurance provided they were vaccinated, thus inducing many to be vaccinated. He also played a significant role in opening the American insurance market for Lloyd's. And he became legendary after San Francisco's major earthquake in 1906. Heath cabled his claims representatives to pay full "irrespective of the terms of their policies."
Cuthbert Heath believed that insurance helped the small capitalist to compete on an equal basis with the large corporation by relieving him of insurable risks. He constantly sought to widen the applicability of insurance, and he designed measures to ensure the solvency of all Lloyd's underwriters – measures that later became the rule.