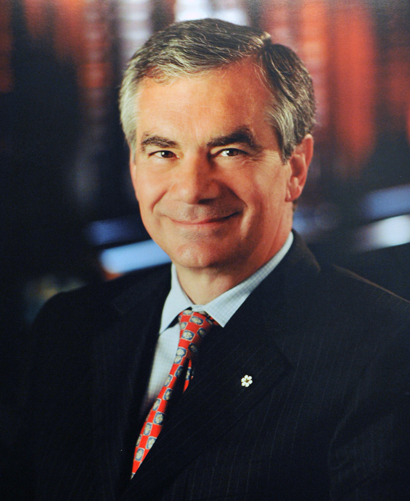 Canada
2008
Dominic D'Alessandro was appointed President and Chief Executive Officer of Manulife Financial in 1994. From the beginning, his goal was to build the most professional life insurance company in the world. His decisive leadership transformed Manulife from a mutual insurance provider valued at approximately $2 billion to an international, diversified financial services leader with a market capitalization of more than $60 billion.
Mr. D'Alessandro has been instrumental in Manulife's corporate transformation. His long list of significant achievements includes leading the conversion to a public company in 1999 and a series of successful acquisitions - the most notable being the company's $15 billion acquisition of US-based John Hancock Financial Services in 2004. He has also spearheaded Manulife's expansion into key Asian markets including Japan, Vietnam and China.
Driven by his vision, Mr. D'Alessandro has led the company to 14 consecutive years of record financial performance. These results were achieved through his focus and ability to build and cultivate one of the strongest management teams in the industry.
His impressive career began nearly 40 years ago with accounting firm Coopers & Lybrand. Over the years, Mr. D'Alessandro took on a series of increasingly challenging roles, including Director of Finance for Genstar Limited, Executive Vice President, Finance for the Royal Bank of Canada and President and Chief Executive Officer of the Laurentian Bank of Canada.
Mr. D'Alessandro is Vice Chairman of the Board of the Canadian Council of Chief Executives and is Director and Past Chairman of the Board of the Canadian Life and Health Insurance Association. He also Co-Chairs the Toronto Region Immigrant Employment Council. As one of the most respected corporate leaders in Canada, he has been named by the Canadian Prime Minister to federal panels to provide his expertise and knowledge. He also demonstrates his commitment and leadership to the broader community through his contributions of time and money to community and charitable groups.
Achievements:
Demutualization and IPO - In 1999, Mr. D'Alessandro led Manulife's successful demutualization. Manulife's Initial Public Offering was the largest in Canadian history, valued at $2.4 billion. The IPO was priced at the highest premium-to-book value of any major demutualizing life insurer in North America. The company's share price rose 154% in its first year of trading on the Toronto Stock Exchange. Today, Manulife is listed on the Toronto, New York, Philippines and Hong Kong stock exchanges.
Global expansion and competitiveness - From the beginning, one of Mr. D'Alessandro's long-term visions for growing Manulife's operations involved strategic expansion in international markets that offered significant potential for the company's future. Today, Manulife's non-Canadian operations account for approximately 75% of the company's premiums and deposits. Manulife has a significant presence in 10 Asian countries and territories, with 8,000 employees in 27 cities in China alone. Manulife's Asian business continues to grow rapidly and the company is investing in future expansion there.

North American expansion

Global expansion

With the 2004 John Hancock acquisition Manulife enlarged its profile in the US insurance market and brought its growth strategy to the merged company. That transaction, the largest cross-border transaction in Canadian history, made Manulife the second-largest insurance company in North America and the sixth largest in the world.
Today, approximately half of Manulife's business activity is based in the US and in 2006 John Hancock became the leading US seller of life insurance.
In 1996, Manulife became the first Canadian and only the second foreign life insurance company to receive a license to conduct business in China.
In 1999, Manulife became the first foreign company licensed to offer its products in Vietnam.
Manulife became Canada's largest investor in Japan with its $1 billion acquisition of Daihyaku Life in 2001. Since then the operations have been restructured, new products introduced and profitability greatly improved.
Impact of Accomplishments:
A history of successful, disciplined acquisitions - Under Mr. D'Alessandro's leadership, Manulife has established a superb track record of strategic acquisitions aimed at strengthening the company's geographic scope, product offering and finances. In total, more than 25 acquisitions have been completed on his watch. A select listing of key acquisitions is provided in Appendix A.
Organic growth- Concurrent with the track record of opportunistic acquisitions throughout Mr. D'Alessandro's tenure, Manulife has also made organic growth a priority over the years. The company has pursued this growth primarily through the continuous introduction of new, innovative products and services geared toward the long-term financial benefits of its customers and ensuring that these products can readily reach the appropriate market. Manulife continues to develop and launch new products aimed at fulfilling the needs of aging populations and shifting demographics - products such as:

Principal Plus for Life (PPFL): Launched in the spring of 2005 in the US market, this new variable annuity product became an immediate sales success, with John Hancock Annuities realizing a 100% increase in overall sales against the previous year. Known generically as a guaranteed minimum withdrawal benefit, PPFL provided the product blueprint for successful launches in Canada and Asia. Introduced as IncomePlus in Canada, it is the first of its kind in the country and generated more than $2 billion in sales in less than 10 months.
Manulife has been a leader in Lifestyle funds for over a decade. Introduced into the US group pension business in 1997, these funds have been enormously popular in the North American markets. Currently, the US business has more than US$55 bln and Canada more than C$6 bln in assets under management. These funds are now also being readied for the Asian markets.

Strategic divestitures - Growth for growth's sake has never been Mr. D'Alessandro's philosophy. The strategy is to be a market leader and focus the company's growth in those markets and segments where this was possible. In fact, businesses that were not in alignment with his long-term vision for the organization were divested. During Mr. D'Alessandro's tenure, Manulife exited more than 20 businesses globally and billions of dollars in capital were redeployed to more promising activities. Examples included the 1995 sale of Manulife's U.K. operations, the sale of three US group business in the mid-1990's, and the sale of a South Korean business, Young Poong Manulife Insurance Company, in 1999.
Leadership style - Building deep bench strength and a dynamic senior management team is a hallmark of Mr. D'Alessandro's leadership style. This approach was recognized repeatedly over the years: in 2005 Standard and Poor's noted Manulife had "extremely strong capitalization; solid operating performance; and [an] accomplished management team." His management style is also marked by strong discipline and a commitment to core values which include: professionalism, real value to customers, integrity, demonstrated financial strength and employer of choice. These core values, "P.R.I.D.E.", as it is called within Manulife, are the underpinnings of the success that Mr. D'Alessandro has achieved.
Integrity - From the outset, Mr. D'Alessandro believed that integrity was the bedrock on which Manulife would thrive and succeed and that by demonstrating the highest levels of honesty and fairness in all of its dealings, Manulife would earn the trust of its employees, clients and shareholders.

Transparency and strong corporate governance are the cornerstones of Manulife's success and Manulife has been recognized repeatedly as a leader. In 2007 Manulife was again named No. 1 overall in the Globe and Mail's* ranking of corporate governance.
In 2005, Manulife demonstrated its integrity in its management of clients' interests when Portus Alternative Asset Management was put into receivership by the provincial regulator. With more than 6,000 clients invested in $235 million of Portus' funds, Manulife was quick to "stand in the shoes" of its clients. Manulife offered the clients it referred to Portus a 100% guarantee and cooperated with regulators while conducting its own internal review. All of Manulife's clients accepted the guarantee and approximately 75% reinvested with Manulife. Canadian Press remarked "Manulife Shareholders Applaud Handling of Portus Affair."

A foundation of financial strength - Manulife's financial strength is underscored by exemplary credit ratings from top ratings services. This reflects Mr. D'Alessandro's unwavering commitment to financial discipline.

In 2006, Standard & Poor's Rating Services raised the financial strength rating on Manulife's rated insurance subsidiaries to 'AAA' from 'AA+'. The triple-A rating is the highest of S&P's 21 rating categories and is shared by only one other publicly traded life insurance provider.
In 2007, Manulife's rating from Moody's was raised to Aa1 - a rating assigned to only one other publicly traded life insurance company in North America.
Community Service
Mr. D'Alessandro has also established a long tradition of community involvement and is committed to sharing his time and resources with a wide variety of worthy causes and charities, including organizations such as the Greater Toronto United Way, the Salvation Army and the Corporate Fund for Breast Cancer Research.
He has served as Campaign Chair of the Greater Toronto United Way and in 2007 personally donated $1 million to fund the Leadership Challenge to help motivate people across Toronto to give.
He is currently co-chair of the Montreal Neurological Institute's fundraising campaign, a five-year, $40-million initiative to invest in people and expand facilities and services. He has personally donated a substantial sum to the cause.
Distinctions and Industry Recognition:
In 2007, Manulife was ranked No. 1 overall in the Globe and Mail's* annual ranking of corporate governance in Canada. Manulife has led these rankings in four of the past six years. This past year, Manulife scored 98 out of 100 marks, compared with the corporate governance benchmark of 68 marks.
Manulife was recognized in 2007 as the top Canadian brand on the world's 250 most valuable brands list. According to BrandFinance, Manulife's brand value is estimated at US$6.2 billion.
In 2007, Mr. D'Alessandro was given the Canadian Business Leader Award by the Alberta School of Business.
In 2007, Mr. D'Alessandro received the International Distinguished Entrepreneur Award from the University of Manitoba.
In 2007, Manulife was named Life Insurance Company of the Year at the Asian Insurance Review Awards. In bestowing this honor upon the company, the judges cited Manulife's 'continued commitment to professionalism, excellent customer service and innovation with first-to-market products'.
In 2006, Mr. D'Alessandro was named to the North American Competitiveness Council by Canadian Prime Minister Stephen Harper. This group of 36 executives is tasked with keeping North America competitive amidst a climate of increased globalization.
In 2006, Mr. D'Alessandro received an Honorary Doctorate from York University.
Also in 2006, Prime Minister Harper named Mr. D'Alessandro to the Advisory Committee on the Public Service of Canada, a group whose main objective is to help shape a national institution in Canada geared toward excellence.
In 2005, Mr. D'Alessandro was honored with the International Horatio Alger Award, recognizing one individual annually who has overcome adversity and humble beginnings to achieve success.
In 2005, McGill University's Desautels Faculty of Management awarded Mr. D'Alessandro a special lifetime achievement award, recognizing his significant contributions to the insurance industry and to the community.
Mr. D'Alessandro was named Canada's Most Respected CEO in 2004, based on a poll of his peers.
Also in 2004, Mr. D'Alessandro received Concordia University's Loyola Medal, an award that honours someone whose character, philosophy and contribution has enriched the heritage of Canada and humanity.
Mr. D'Alessandro was named an Officer of the Order of Canada in 2003.
Mr. D'Alessandro was named Canada's Outstanding CEO of the Year in 2002 by a jury of his peers.
Mr. D'Alessandro was honored with the 2000-2001 CEO of the Year Award by the Canadian Public Relations Society.
In 2000, the Villa Marconi honored Mr. D'Alessandro with its inaugural Canadian Italian National Award, which was presented by then-Prime Minister of Canada Jean Chretien.
In 1999, Mr. D'Alessandro received the University of Toronto's Arbour Award.
In 1998, Mr. D'Alessandro received an Honorary Doctorate from Concordia University.
Mr. D'Alessandro was made a Fellow of the Institute of Chartered Accountants in 1993.
* The Globe and Mail is Canada's #1 national newspaper. http://www.ctvglobemedia.com/en/