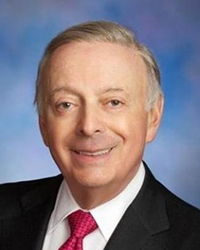 USA
2016
Mr. Donald Kramer has had an active career in the financial industry spanning over 52 years, of which more than 44 years have been dedicated to the insurance industry. He has been a leading innovator in several fields, including: investment banking, rehabilitating and/or liquidating troubled insurance companies, and establishing from the ground up and leading several successful insurance companies.
Specific Contribution and Impact:
Mr. Kramer started his career as a security analyst working at Moody's. Subsequently he became a general partner at each of the following investment banking houses, Bache & Co., First Manhattan, and Oppenheimer Company. Throughout this period he focused on the analysis of life insurance and property and casualty insurance stocks. He also acted as a leading investment banker in the field, concluding several major acquisitions by publicly traded insurance enterprises.
In 1964 the CFA Institute awarded Mr. Kramer a coveted Graham and Dodd citation for his article, Life Insurance Profit Margins, published in the Financial Analysts Journal.1 At the time life insurance companies in the United States were poorly understood by the investment community and did not file financial reports using generally accepted accounting principles. The article changed the way life insurance companies were evaluated in the marketplace. A 1974 study of the property and casualty insurance industry issued by Oppenheimer and Co. and written by Mr. Kramer had a similar effect on property and casualty security valuations.
In 1975 Mr. Kramer retired from Wall Street and set up Kramer Capital Consultants (KCC), a management consulting practice which specialized in dealing with troubled insurance companies. During his years at KCC (1975-1984), he dealt with nearly all of the high profile receiverships in the United States, most often representing state insurance departments. He also conducted several studies of insurance company failures, and of the NAIC "Early Warning" system. Furthermore, he was instrumental in the formation of the New York Insurance Exchange, an entity that subsequently closed due to market conditions but which may have some prospect for revival currently.
The first in an audacious series of insurance company start ups took place in 1984 when Mr. Kramer acquired a somewhat inactive shell, North American Company for Property and Casualty Insurance, commonly known as NACPAC. He started as the Chief Executive Officer and then turned the reins over to an experienced management team that he recruited. The company was initially purchased for $ 26 million and following several years of growth and financial development was sold [date to be supplied] for over $ 1.2 billion dollars.
But by then Mr. Kramer was on to other things. In 1993 he raised $ 500 million to form Tempest Reinsurance Company in Bermuda. Tempest, in turn, was merged into ACE Limited where Mr. Kramer became Vice Chairman under Brian Duperreault. Today ACE Tempest Re is a major reinsurer with net income in 2009, the last reported year, totaling nearly $ 600 million and ACE itself is a leading global multi-line insurance group with annual net income of $ 2.5 billion. ACE was created as a result of several very successful acquisitions that Brian Duperreault and Donald Kramer initiated in addition to the acquisition of Tempest. Mr. Kramer also served ACE internationally through its two Lloyd's syndicate acquisitions, its China acquisition, the Huatai Insurance Company, and the opening of offices in Russia and Vietnam.
Following his retirement from ACE in 2005, Mr. Kramer started Ariel Holdings (Ariel Re) with a total of $ 1 billion in funds raised privately. The company has grown by more than sixty percent and recently returned forty percent of investors' original investment through a yearend dividend. Recently Mr. Kramer stepped down as CEO, turning operations over to a management team he recruited, but remains Chairman of the Board.
Probably the most unusual characteristic of Mr. Kramer's insurance career is that he has never really been hired by anyone at an existing insurance operating company but instead has always started his own companies from a blank sheet of paper. That is a unique skill and one that few people possess. His track record may be unparalleled in terms of the number of successful companies of significant stature that he has established in this way. Taking over an existing company suggests that an infra-structure already exists and that only management corrections are required to produce good performance. Starting a company from scratch on the other hand requires a great deal more organizational development, and one of Mr. Kramer's signature qualities is that he has always been able to attract a first rate team to achieve an outstanding result.
Honors Received. Humanitarian, Artistic, and Civic Activities:
Mr. Kramer has received numerous awards from both professional and charitable organizations. Among those are:
Lifetime Achievement Award. Bermuda Insurance Institute. [Date to be supplied]
Insurance Man of the Year. United Jewish Appeal. 2009
Lifetime Achievement Award. Reactions Magazine (a subsidiary of the Institutional Investor Group of publications). 2010
Graham & Dodd Award. Chartered Financial Analysts Institute. 1964.
Active in humanitarian and cultural causes, Mr. Kramer generously supports several important organizations. His passion for dance and for helping young children is very well known. He is the Chairman of the Board of the National Dance Foundation of Bermuda, and serves on the Board of American Ballet Theatre (the national ballet company of the United States). He is an active trustee of the Brooklyn College Foundation and was honored by the college as a commencement address speaker in 2008. In addition he serves as a co-chairman of Bermuda First a non partisan think tank that seeks to help the Island find ways to deal with the strains of a troubled global economy and difficult social issues. Mr. Kramer also serves on the Board of National Benefit Life Insurance Company a subsidiary of Primerica Corp, a Citibank subsidiary that recently became a publicly traded company.
Education and Personal
Mr. Kramer has a BA in finance from Brooklyn College, an MBA in finance and investments from New York University, and was awarded an honorary doctorate in Humane Letters from Brooklyn College. He holds the CFA, (Chartered Financial Analyst) professional designation.
With all that Mr. Kramer does, he still has the time for an active social life with his wife Elizabeth their four married children and eight grandchildren ranging in age from 4 to 20 years old.
1 Financial Analyst's Journal, Vol. 21, No. 6, Nov - Dec 1965, pp 85 -90. Charlottesville, Virginia, USA. CFA Institute.
Nominator:
Brian Duperreault, President & CEO, Marsh
Seconds:
David A. Brown, Chief Executive Officer, Flagstone (Bermuda) Holdings Limited, Hamilton, Bermuda
Michael Butt, Chairman, Axis Specialty Ltd.