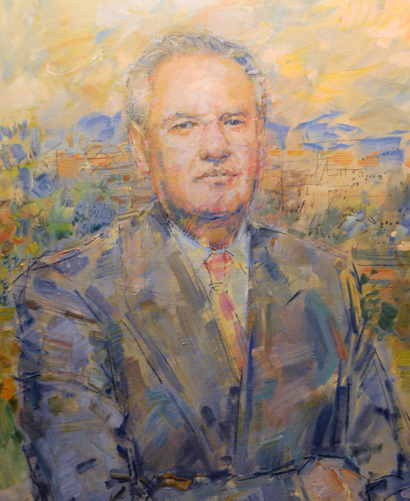 Spain
2007
José Manuel Martinez is Chairman of MAPFRE, Spain's largest and most successful insurance group, which since 2005 is the largest Non Life insurer in Latin America, with more than 30,600 employees and almost 5.460 and offices in 43 countries. During his tenure, MAPFRE evolved from a good local market leader to a large international group that is a benchmark for growth, results and quality of service. MAPFRE began 2008, the year of the celebration of its 75th Anniversary, presenting the best results in its history reaching a net profit of €731 million, revenues exceeding €15,200 million and managing assets close to €45.000 million.
José Manuel Martinez has contributed decisively to the advancement of Insurance as an institution in Spain and Latin America, through his actions at MAPFRE and through a number of trade organisations. He also has substantially expanded MAPFRE's contribution to society through FUNDACION MAPFRE, the majority shareholder of the MAPFRE Group after its recent demutualisation and one the largest entities of its kind in Europe.
José Manuel Martinez began his career at MAPFRE in 1972, after graduating from Madrid University as Public Works Engineer, Economist and Actuary, at the age of 25. At the time, this small mutual insurance company with historical roots in agriculture had just begun to create a group with specialised subsidiaries in order to accelerate its growth. At the time, MAPFRE's CEO lgnacio Hernando de Larramendi had also started preparing for future growth by recruiting a few bright young university graduates who could potentially play a leading role in the group's development. Jose Manuel was one of those bright graduates.
José Manuel Martinez was first assigned to a newly created department of engineering and construction risk insurance. As early as 1977, he was involved from the outset in the start-up of MAPFRE's reinsurance operations; the business was initially underwritten on behalf of MAPFRE INDUSTRIAL, until a dedicated reinsurance company was created in 1982.
Professional accomplishment
By regularly visiting insurance companies in Spain and Latin America, Martinez effectively established MAPFRE's early reputation as an internationally active reinsurer, supported by a strongly growing Spanish MAPFRE primary insurance group. At that time, MAPFRE was already developing original solutions for Motor Insurance and for the management of its sales network, thereby laying the foundations for its remarkable success story. In those early years, Martinez acquired his first management experience as Chief Executive of the reinsurance subsidiary, with full responsibility for underwriting, human resources, technology and accounting.
In 1981 MAPFRE decided to open the group to outside investors; for that purpose, an existing listed company was renamed as CORPORACION MAPFRE and converted into the central downstream holding company for all of the group's insurance and reinsurance subsidiaries, except Motor insurance, which was retained by the parent company, MAPFRE MUTUALIDAD, as its specialised line of business. In the following years, MAPFRE MUTUALIDAD gradually reduced its shareholding in CORPORACION MAPFRE to just above 50 per cent through several successive rights issues placed among international investors. The funds raised were used to develop MAPFRE's international reinsurance operations and also to start acquiring primary insurance companies in Latin America.
Martinez continued at the helm of the reinsurance operation, which was merged into holding company CORPORACION MAPFRE in 1985. From that point, while retaining the responsibility for the reinsurance business, Martinez became also the chief executive of MAPFRE's listed holding company. In those years, MAPFRE was starting to overcome competitors on the domestic market and became the number one insurance group in Spain in 1984, a position which it has kept ever since. After 1989, the reinsurance business was spun off into MAPFRE RE, a newly created subsidiary of CORPORACION MAPFRE. Through consistent cautious underwritting and close knowledge of proportional reinsurance customers, most of which were based in Latin America and had initially been won by José Manuel Martinez, MAPFRE RE continued developing its business with positive results in every fiscal year since then, and is now recognised as a highly rated international reinsurance company and ranks among the top 20 reinsurance groups in the world. lts first representative office outside Spain was established in Mexico in 1984, while the first representative office in Europe was opened in Milan in 1988. Through the acquisition of a majority share in CIAR in 1989, MAPFRE RE established solid links with a number of mutual companies in Europe and in the USA. The first representative office in Asia was opened in Manila (The Philippines) in 1986.
Having acquired such a wide international experience through reinsurance and his exposure to the capital markets, José Manuel Martinez was preparing himself for an entirely new challenge in MAPFRE's international development: establishing the group's presence in primary insurance all over Latin America. lgnacio H. de Larramendi retired as Chairman in 1990 and José Manuel Martinez, who had been working with him directly for many years continued to be the main driver of the group's development during the following decade, under group Chairman & CEO Julio Castelo. During those years, most of the Latin American acquisitions were made step by step and the reinsurance operations reached international critical mass. The following transactions are worth mentioning:
- 1984: Acquisition of a minority shareholding in MAPFRE SEGUROS GENERALES DE COLOMBIA
- 1986: Acquisition of MAPFRE ACONCAGUA (Argentina) and incorporation of MAPFRE PARAGUAY and Euroamerica (Chile)
- 1989: Acquisition of SEGUROS TEPEYAC (Mexico) and GRUPO PRAICO (Puerto Rico)
- 1992: Acquisition of VERA CRUZ SEGURADORA and VERA CRUZ VIDA E PREVIDENCIA (Brazil)
- 1994: Incorporation of MAPFRE URUGUAY
- 1997: Acquisition of SEGUROS LA SEGURIDAD (Venezuela) and EL SOL NACIONAL (Peru)
- 1999: Acquisition of LA CENTRO AMERICANA (El Salvador)
- 2003: Acquisition of CANADA LIFE INSURANCE COMPANY (Puerto Rico)
- 2005: Incorporation of MAPFRE DOMINICANA (Dominican Republic) and acquisition of a shareholding in NOSSA CAIXA SEGUROS E PREVIDENCIA (Brazil)
It was to be a long road until AMERICA started to deliver a reasonable return on capital, as is now the case. José Manuel Martinez showed his management ability to learn from mistakes, without ever losing sight of the end target. The figures speak by themselves: MAPFRE now has a Non Life market share of more than 6 per cent in Latin America as a whole, it operates in 13 countries and turns out a pre-tax profit close to 5 per cent of gross premiums written. In 2005, MAPFRE was the number one Latin American Non-life insurer for the first time, a position that maintains to date.
Such an outstanding success was made possible by José Manuel Martinez's ability to convey forces and management capabilities from MAPFRE's Spanish operations towards Latin America. Among the key achievements, it is worth noting: the adoption of a single standardised integrated insurance lT application called TRONADOR, which uses relational databases and was developed by MAPFRE's own teams; a thorough revision of internal processes; the revamping of the product portfolio; the overhaul of the claims settlement system; and a notable expansion of the distribution network. MAPFRE's Latin American operations are now able to turn out a reasonable profit and, remarkably, they are providing a flow-back of ideas and experienced managers, who are presently playing an important role in updating MAPFRE's operations in Spain.
In 1996 José Manuel Martinez added to his existing responsibilities the chairmanship of MAPFRE VIDA, the group's Life insurance and long-term savings subsidiary. He presided over substantial changes in this company at the time when bancassurance and the mandatory externalisation of corporate pension commitments radically transformed the Life insurance business in Spain.
Along with the development of MAPFRE in Latin America, its leadership in Spain was strongly established in the traditional agents-base distribution channel, as evidenced by a substantial increase in its market shares between 1995 and 2007: from 10.4 to 17.4 in Non-life insurance and from 5.4 to 10.3 in Life insurance, respectively.
Until 2000, new distribution channels were becoming increasingly relevant in Spain and in other European countries. MAPFRE had started developing a retail banking operation of its own in the late 80s, but by the end of the next decade it became clear that the development of bancassurance through this approach was going to be too slow and difficult due to its high cost. Therefore, MAPFRE was quick in seizing the opportunity when CAJA MADRID, Spain's second largest savings bank and fourth largest financial group, declared its willingness to discuss an alliance in 2000, and José Manuel Martinez also took a relevant part in its negotiation.
At the time, MAPFRE had 2,400 exclusive sales points evenly distributed throughout Spain, a figure currently increased significantly. Thus, the alliance was devised as a balanced deal among equal partners, based on sound geographical complementarity: MAPFRE had no large banking partner and had started a small retail bank and CAJA MADRID had Life and Health bancassurance operations. CAJA MADRID's insurance subsidiaries were brought into a holding company, 51 per cent-owned by MAPFRE, among other transactions The results to date have surpassed even the most optimistic expectations and the alliance has been reinforced in 2007 adapting it to the current Group´s structure.
In 2001, José Manuel Martinez was elected to succeed Julio Castelo as the Group´s Executive Chairman, thereby adding to his previous responsibilities in the listed company that of leading MAPFRE MUTUALIDAD, Spain's largest and exceptionally successful motor car insurer, and the driving force behind a sales organisation that comprised then over 21,000 exclusive agents. After three years in his new position, which gave him time to observe the organisation in detail, Martinez calmly decided in 2004 to put it upside down by breaking the old product-based structure and converting it into a multi-product, customer-oriented force. This was done at a time when MAPFRE was growing faster than competitors and increasing its market share, and allowed it to take the average age of its marketing and operations executives substantially below 40. The results quickly appeared in terms of new growth opportunities and reduced bureaucracy.
Implications for the future
- While the stormy 2000-2002 years brought problems of a previously unknown dimension to the insurance and reinsurance sectors, MAPFRE's underwriting standards in reinsurance and its limited exposure to equities made it one of the best performers in Europe. lts strong rating allowed MAPFRE RE to continue building a solid book of reinsurance business from Europe and the Far East, as its security was increasingly sought after by ceding companies. Meanwhile, MAPFRE's Life operations went through the equity markets crisis virtually unscathed.
- Year after year, MAPFRE continues to record above-average growth rates in revenues and profits in each and every market in which it operated. The investment in Latin America, which had been severely criticised by market analysts and investors in 1998-99, started to improve substantially after 2000, especially thanks to lower loss ratios and the development of exclusive networks in each country, in line with MAPFRE's distribution approach. Although José Manuel Martinez was no longer directly involved in the management of the Latin American subsidiaries, he continued to supervise their management team and to motivate the organisation, thus turning MAPFRE AMERICA into the group's main growth engine. To date, the Group has one of the largest distribution branch networks in the area and sells its products among 2.000 offices in Latin America.
- In this favourable context, José Manuel Martinez decided once again to take a transformational step. On 31st May 2006, MAPFRE announced a major corporate restructuring, in which MAPFRE MUTUALIDAD would confer its large Spanish Motor business to the listed holding company and transfer at the same time its majority shareholding in the latter to the group's existing foundation, FUNDACION MAPFRE. The complex design process of what is likely the most profound change in the group's history was conducted with utmost discretion, as evidenced by the absence of any leaks or rumours prior to the announcement date. Through this defacto demutualisation, MAPFRE decided to submit itself entirely to the discipline and scrutiny of the market; at the present price of the CORPORACI0N MAPFRE share, the group's market capitalisation under its new corporate structure will exceed €8 bn, nearly double the figure at the time, thus enhancing its financial flexibility. In his first announcement, Jose Manuel Martinez stated that, under the new structure, he saw the possibility for MAPFRE to rank among the largest Non-life insurers in Europe; to consolidate its leading position in Latin American insurance; and to accelerate its expansion into the USA and the Far East. All 5.2 million members of MAPFRE MUTUALIDAD had the possibility to receive their share of the Mutual's equity and a proportional part of unrealised gains, under the form of cash or shares, in accordance with the by-laws. Under the new structure, MAPFRE's corporate governance model will be further improved: FUNDACION MAPFRE will take the role of controlling shareholder, leaving all management responsibilities to the Board of Directors of MAPFRE S.A. (the new name of the listed company), in which there will be a substantial presence of independent and non-executive directors. The new structure will also allow to further improve the operating structures and realise synergies, by simplifying processes and bringing together units.
- The commitment of José Manuel Martínez to strengthen the Group´s position and enhance growth continued also in the local market. In 2007, the Group reached further agreements to increase its market shares and widen its distribution network: new bancassurance agreements with CAJA CASTILLA LA MANCHA, CAJA DUERO and BANKINTER to develop also its Life and Pensions businesses; an alliance with BBVA in the Motor business in Spain; and the integration of MUTUA VALENCIANA AUTOMOVILISTA to increase its penetration in this segment.
- The international expansion of MAPFRE and the will to enter new markets with significant growth potential also includes the recent acquisition of the 80 percent of the Turkish insurer GENEL SIGORTA, a transaction announced in March 2007. This acquisition represents the access of the Group to the direct insurance market of a country of more than 71 million inhabitants and important growth and diversification opportunities. But furthermore, José Manuel Martinez and the international management team of MAPFRE have been the main drivers of what is expected to be the largest transaction of the Group ever, when concluded: the acquisition of THE COMMERCE GROUP, the leading writer of non-life personal insurance lines in the state of Massachusetts (US) for more than €1,500 million. This transaction will add a new and important line for growth for MAPFRE, widens the international geographical coverage of its businesses; notably reinforces its distribution network in the US, where MAPFRE operates since 1993, and diversifies its currency exposure. MAPFRE and THE COMMERCE GROUP are currently working to conclude this transaction.
- As previously mentioned, at the end of 2007, MAPFRE also approved a reorganisation of its alliance with CAJA MADRID in order to reinforce and strengthen the solid relationship among both groups which at the time goes back ten years and allows to adapt it to the new structure of the Group. In the first month of 2008 the terms were concreted with the integration of MAPFRE-CAJA MADRID HOLDING into MAPFRE S.A, through which the alliance in the Life insurance business will be materialised. CAJA MADRID will in return take 15% of the share capital of the Group, turning into a reference shareholder of the new Group.
- Furthermore, and preparing the company for the future, Jose Manuel Martínez announced at the beginning of 2008 a decision that helps to simply the business and structure of the Group. Once approved, the three companies that operate in Non Life lines aimed at retail customers and small companies linked to the net assets of families (MAPFRE AUTOMÓVILES, MAPFRE SEGUROS GENERALES y MAPFRE CAJA SALUD), will be integrated in MAPFRE FAMILIAR S.A.
All these transactions provide evidence of MAPFRE´s determination to gain efficiency and grow in new markets or businesses, taking advantage of those situations in which the contribution of the management experience and technology may add significant value. José Manuel Martinez opened the way for MAPFRE's further development in the coming years. Under his continued leadership, an entirely new generation of managers has taken up responsibility for the group's operating divisions.
During his wide-ranging career in insurance and reinsurance, Mr. Martinez has always devoted his best efforts to corporate social responsibility under all its expressions. He supported decidedly compliance with good governance rules and strong ethical standards throughout the MAPFRE Group, one of the first in Spain to adopt its own code of good governance 15 years ago. He also promoted actively the non-profit work sponsored by FUNDACION MAPFRE, which among its many-fold activities includes: one of Spain's leading traffic safety centres; a wide range of scholarship programmes for students and researchers in the fields of safety in the workplace and traumatology; and the first specialised undergraduate and post-graduate degrees in Insurance in Spain. FUNDACION MAPFRE grants every year several awards of high prestige for research in the fields of Insurance and Medicine, as well as in Fine Arts (Drawing and Literature). Under Mr. Martinez leadership, FUNDACION MAPFRE also continued to be one of the major proponents of cultural programmes in Latin-America. ln 2005 Mr. Martinez decided to create a new area of FUNDACION MAPFRE dedicated to social initiatives, which will concentrate on programmes for disabled persons in Spain and education for low-income population in Latin America.
As a member of several institutions, Mr. Martinez dedicated himself to the advancement of the Spanish insurance sector, especially by participating on the Board of the Consorcio Espafrol de Seguros and by promoting MAPFRE's active role in UNESPA (the Spanish Insurance Trade Association) and ICEA (the Spanish Insurance Research Centre). He is recognised as an authoritative insurance leader in all Spanish- and Portuguese-speaking countries and was on several occasions the keynote speaker at the FIDES Interamerican insurance meetings.
During his tenure as MAPFRE's Chief Executive, Mr. Martinez has always maintained his personal attitude made of openness, restraint and sympathy towards everyone, whether inside or outside the company, without ever losing sight of his entrepreneurial agenda. A unique combination of deep technical understanding and cautious judgement, together with an ever-optimistic and conquering view of the present and the future, will allow Mr. Martinez to continue leading the MAPFRE group, which he has definitely moulded into its present profile, and which will continue advancing beyond new frontiers of excellence in the coming years.
MAPFRE, with presence in 43 countries at the end of 2007, has more than 30,600 employees, more than 51,200 delegates, agents and brokers, and one of the largest networks in Spain and Latin America, with 3,090 and 1,890 branches, respectively. MAPFRE started 2008, the celebration of its 75th Anniversary, presenting the best results of its history, achieving a net attributable result of €731 million, revenues exceeding €15,200 million and assets under management higher than €44,800.
DIRECTORSHIPS
Chairman of the Board of FUNDACION MAPFRE and Chairman and CEO of MAPFRE S.A.
CONSORCIO DE COMPENSACION DE SEGUROS
FUNDACION CAROLINA, a Spanish Government sponsored foundation for Latin American scholarships
HONOURS AND PUBLIC RECOGNITION
1995 Distingued Service Award - llS (International Insurance Society)
1997 Los Mejores de 1997 - LA VERDAD newspaper, Murcia (Spain)
2001 Award International Character 2001 – Academia Nacional de Seguros e Previdencia (Brazil)
2002 Dirigentes Award 2001 – Dirigentes Magazine (Spain)
2002 Honorary membership of Fundación Carlos III
2006 Honorary membership of Alumni Association of ENAE, Business School, Madrid
2006 Management Award by CEDE (Confederación Española de Directivos y Ejecutivos)
2007 Insurance Hall of Fame" award by the International Insurance Society
2007 Gold Medal from the Latin American Commerce Chambers (AICO)
2007 Tiepolo Award from the Italian Chamber in Spain and the Chamber of Commerce of Madrid
2008 Included in the Biographic Dictionary of the History Royal Academy