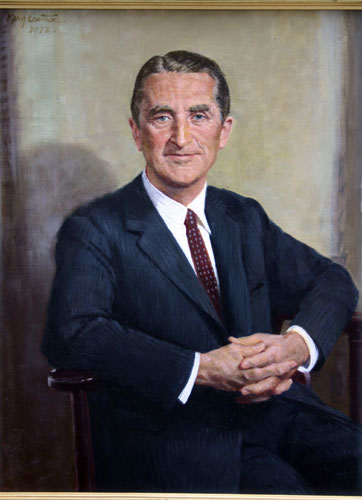 Norway
2004
Per M. Hansson (1905-1993), whose primary service to the industry was as chief executive with Storebrand AS, was a pioneer in the Norwegian and Scandinavian insurance industry. At age 21, he received a law degree from the University of Oslo and benefited from lengthy traineeships in France, Germany, the UK, Italy and Eygpt. He started with Storebrand in 1927 and eventually succeeded his father, who, in turn, had succeeded Mr. Hansson's grandfather 22 years earlier.
While the Hansson family played a significant role in Storebrand (whose history dated back to 1767) over many decades, it was Per M. Hansson who took over the company at a difficult time during World War II and navigated the challenges presented during that time to preserve the company. For 36 years, beginning in 1940, Mr. Hansson was chairman of the board (and non-executive chairman) and made many lasting contributions.
He was a leader in internationalizing the Norwegian insurance market and he introduced concepts of entreprenurship long before they became widely practiced, helping to make the Scandinavian market highly successful. While growing Storebrand to become the dominant domestic insurers, he developed the international branch of reinsurance business to exceed that of the domestic. He established a reinsurance subsidiary of Storebrand in Mexico and during his tenure the company grew to become by far the largest reinsurance company of Latin America.
He was also a pioneer in forming a professional fund management division, and managed significant projects within aviation and credit insurance. His organizational thinking was ahead of its time. He put great emphasis on Storebrand employees and gave wide responsibility and demanded high performance. He stood for creativity, efficiency and wide international perspective. He understood that the quality of employees' lives at both work and at leisure was a key success factor and pioneered a range of employee-friendly initiatives, which later became industry standards.