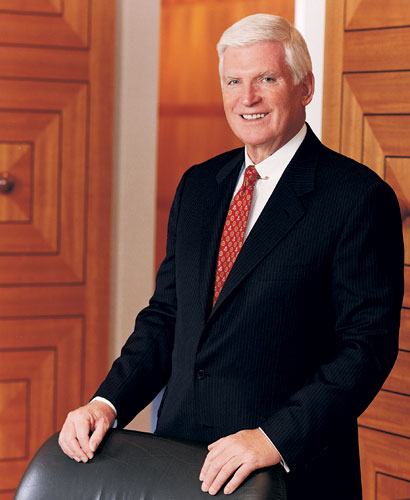 USA
2008
Patrick Ryan is Executive Chairman of Aon Corporation, a global leader in risk management, insurance and reinsurance brokerage, consulting and outsourcing, with 55,000 employees in more than 600 offices in 125 countries. He started as an entrepreneur and merged his company, Ryan Group, to form what ultimately became Aon. He was chairman of the Aon Board of Directors from 1990 until 2005 and was formerly chief executive officer of the company since 1982.
Contributions:
A pioneer in understanding the globalization of insurance and in developing brokerage to meet the needs of a global environment.
An early proponent of aggressive consolidation in the industry for economic benefits and to meet client needs.
Innovative entry into the field of reinsurance as an intermediary providing service to underwriting companies as well as to other brokerage firms.
Advocate for the important role of brokerage in the global marketplace as a force for efficiency and driving competitive costs.
Impact of Contributions:
One of the first leaders in the brokerage community to foresee and implement a global plan to benefit customers.
Developed one of the most sophisticated management structures in brokerage: networks of local resources to deliver services around the world, with expertise to do business in specific locations, not just from headquarters.
An early proponent of the power of intellectual capital as a strategic business tool and advantage.
Patrick Ryan began his career in insurance in 1959 right out of college. By 1963, he had started the Ryan Insurance Agency in Chicago, at the age of 26. He had already begun to form his plan for a large insurance brokerage operation: he believed substantial growth depended primarily upon acquisition of existing brokerage firms. Thus, he became one of the brokerage industry's early pioneers in foreseeing the strength and success of consolidation.
He has explained his beginnings in this way: "When I was at Northwestern University in Chicago, I decided to make the insurance industry my career. I wanted to be in a business where the only limitations were self-imposed. You could go out and sell seven days a week. And I was attracted to the entrepreneurial opportunities. I worked two jobs. I kept selling as I started the business and I used the revenues I had built up to fund the business."
The Ryan Agency specialized in the automotive industry, providing credit life and credit accident and health insurance. In an innovative twist, he recruited and training insurance professionals to work in auto dealerships, to be both the finance and the insurance person. The dealer was charged a fee and they would work with the dealer. Thus, long before the term became known to business, he was offering an "outsourced" consultant to his clients to help them in their over-all business finances, including insurance. It was this experience that led him to see the overall needs of businesses for financial solutions through insurance.
As his business grew, Ryan sought financing to expand further. The first series of acquisitions occurred in 1978, with four agencies that had been operating under the financial services division of ESMARK, a Chicago-based conglomerate. Then, in 1982, came the big move. He merged with W. Clement Stone's Combined Insurance Company. Stone was a legend in the insurance business and Ryan was soon to build his own recognition through building a large brokerage distribution headquarters-which was the beginning of modern-day Aon.
"I met Clement Stone when we were both involved in Chicago civic affairs, says Ryan. "In 1982, when Clement was 80, his board approached me about a merger. It was a big leap for me. Ryan Insurance was probably $220 million in revenues and Combined Insurance had $800 million. While the Ryan Agency made only about $1.3 million after-tax, Combined made $100 million."
Seeing that the future of the business was going to be in scale, Ryan, combined with a new balance sheet and cash flow, went on another acquisition path. He bought the largest insurance broker in Chicago: Rollins, Burdick, and Hunter. The next important acquisition was Scarborough and Company. This latter propelled Ryan Insurance Agency into the company of the U. S.'s largest brokers. He became the 19th ranking broker in the U.S. Then, with the acquisition of James S. Kemper & Co. brokerage operations, he made it into the top 10 U. S. brokerage firms.
Few industry leaders were as good as Jim Ryan in anticipating and taking advantage of the coming global nature of the business. In 1990, he began to eye the global environment. He has said that as companies the brokerage world served began to globalize, he recognized that that was where his business must also be headed. "We saw a void, only one global broker, Marsh & MacLennan, and we decided that we should fill that void. That was going to continue to be through acquisitions."
Among those acquisitions to propel the firm into the ranks of Fortune 500 companies were:

1991 Hudig Langveldt - Europe's largest independent brokers
1992 Frank B. Hall - Majro U. S. broker
1996 Bain Hogg Group - Added to network in U. S., Europe, Asia and Africa
1997 Alexander and Alexander - Added to network in North America, UK, Europe, Latin America, Asia; Sadarcan - Canadian broker; Jauch & Hubener, German broker
1998 Gil y Carvajal - Leading Spanish brokers; Le Blanc de Nicolay - Leading French broker
In parallel with his major brokerage clients, Ryan expanded Aon to serve them around the world. He was now doing business in over 100 countries. His master plan was to string together numerous groups of specialists from the various acquired brokerage houses and cover ht globe. His aggressive plans for Aon to join the worldwide competition between insurers, reinsurers, brokers, consultants, accountants and banks positioned Aon in the top ranks in insurance and risk management counseling.
Today, Aon is a Fortune 500 company, operating around the globe. It is a world leader in risk management, retail, reinsurance and wholesale brokerage, claims management, specialty services and consulting. It does business with 85% of the companies in the Fortune 500 and the Fortune Global 500. In 2003, Aon's reported revenues were $9.8 billion, an 11 percent increase over 2002. Aon is the world's
Largest reinsurance broker
Largest captive insurance company manager
Second largest insurance broker, and
Third largest employee benefits consultant
Aon means "oneness" in Gallic and reflects what Ryan early on identified as important in the way the business was run. "We live by our name in bringing together top professionals who work across hundreds of disciplines in a seamless, integrated fashion to give tailored answers to any enterprise anywhere in the world." He has said that he believes his greatest success was in being able to attract quality people and in effect to ask them to be builders of the firm with him. There has been a modest amount of turnover at Aon in the senior management ranks over the full 35 years of Ryan insurance.
Ryan has said that successful companies think across many barriers to determine who and what their present and future competition will be. Aon's professionals believe that globalization demands two important capabilities: one, to gather the best thinking and intelligence from around the world; then, two, to deliver solutions to people locally. This is the credo of the company as much as any: to utilize its vast intellectual capital wisely and for the benefit of clients. The intellectual depth of Aon can be brought to service multinational companies, small companies, independent agency or brokers, associations and even individual customers.
Honors and Public Recognition:
International Executive of the Year, Brigham Young University, 2002
Crain's Business Executive of the Year, 1997
Member, Chicago Business Hall of Fame
Insurance Leader of the Year, College of Insurance, New York, 1997
Recipient Illinois Order of Lincoln Medallion
Chicago's Historical Society's Marshall Field History Maker
Horatio Alger Association of Distinguished Americans
Business Statesman Award, Harvard Business School Club of Chicago
Distinguished Leader Award, Chicago Chamber of Commerce
Directorships:
Sears, Roebuck & Co.
The Chicago Tribune
Civic Contributions:
Founder of clinic for children with birth-related disorders
Chairman, Board of Trustees, Northwestern University
Trustee - Rush-Presbyterian Hospital
Trustee- Field Museum of Natural History, Chicago
Trustee- Museum of Science and industry, Chicago