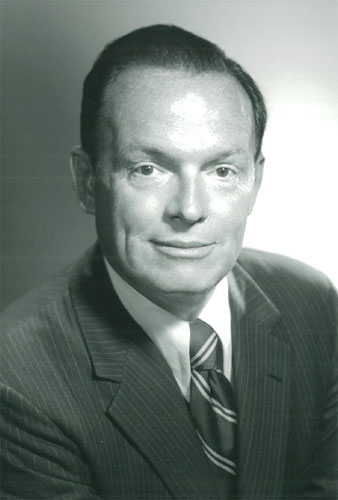 USA
1988
Mr. Robert Beck had a distinguished career with the Prudential Insurance Company of America that spanned four decades from 1951-1987. One of the country's most outstanding business leaders, Robert Beck played major roles in critical U. S. government affairs affecting the insurance industry and society at large. He was influential in participating in debates concerning insurance taxation. And he pressed other insurance industry issues, including expansion of Individual Retirement Annuity eligibility, health cost containment issues and federal government cost control. In 1981, he was appointed by President Reagan to a fifteen-member National Committee on Social Security Reform dealing with financial problems of Social Security.
He began his career at Prudential as an agent and advanced quickly into the officer ranks to become President in 1974, and then Chairman and Chief Executive Officer in 1978. His influence within the industry was pervasive and in 1981, Time magazine named him as the leading new spokesmen in Washington likely to play a role in shaping major policy issues.
Mr. Beck led Prudential's evolution in the l970's and 1980's from a traditional life and health insurance company to a leading full financial services company. He worked to back de-regulation of the elements of financial services that would assure a level playing field for all participants.
Internationally, he was instrumental in Prudential's development in Japan of a professional career agency distribution system emphasizing highly trained insurance representatives. Entry into the Japanese market was accomplished through a joint venture with Sony Corporation. The operation was built to include product, systems and distribution.
He was member of the Board of Directors of LIMRA from 1970-72 and Chairman in 1971, where he was a major force in shaping the organization and its objectives. He also was a member of other important industry organizations, including LUTC, ACLI and The American College.