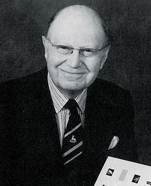 United Kingdom
2014
ROBERT J. KILN
United Kingdom
(1920-1997)
An introduction to Robert J Kiln
In a career that spanned almost 50 years in the Lloyd's market, Robert J Kiln established himself as a pioneering figure in the insurance and reinsurance worlds.
He had the vision to develop standard wordings for existing classes of business, helped create new covers for clients and also developed innovative approaches to underwriting that remain cornerstones of the market today.
A keen educator with a passion for imparting knowledge, he was the author of two books on reinsurance, Reinsurance in Practice (1981) and Reinsurance Underwriting (1985). These have left a lasting legacy and are acknowledged as essential reading for market practitioners today.
He also led the insurance and reinsurance community in some of its most awkward and sizeable loss negotiations, always fighting for fair and swift payment of claims.
A hugely successful leader, the eponymous managing agent he founded in 1962 is now one of the largest and most well respected in Lloyd's, renowned for underwriting excellence, innovation and integrity.
Despite losing his left leg and his hearing in the Second World War, Robert J Kiln proved severe disability does not have to be an impediment to personal achievement.
He had a busy and fulfilled personal life, centred on his six children and three step children. In addition he had a passion for archaeology, which he indulged through academic study, practical involvement and charitable donation.
Career History
November 1937: Joined CT Bowring "Harvey Bowring" Syndicate 360/854
Early 1939: Signed up to the Honourable Artillery Company as a Volunteer Gunner
August 1939: Called up to the 12th Regiment of the Royal Horse Artillery
June 1940: Commissioned as a Second Lieutenant and posted to the 86th Field Regiment, Royal Artillery (The Hertfordshire Yeomanry)
June 1944: Served in D-Day
September 1944: Injured outside Antwerp, losing his left leg
June 1946: Demobilised
1947: Returned to CT Bowring
1947-1962: Worked under Len Durham, one of the leading reinsurance underwriters in London
May 1962: Left CT Bowring to establish RJ Kiln & Co
1962-1974: Lead underwriter Syndicate 510
1962-1985: Chairman of RJ Kiln & Co

Senior market committee positions
Served three times on the Committee of Lloyd's being a member continuously from 1971 to 1980
Chaired the Lloyd's Audit Committee
Set up and acted as chairman of Lloyd's Life Assurance Limited and its Isle of Mann subsidiary. 1979-1985
Insurance adviser to the Department of Trade and Industry
Member of the Federation (now the Confederation) of British Industry's City Advisory Panel
Acted as an expert consultant, mediator, arbitrator and expert witness in over 100 insurance and reinsurance cases.
Awards, degrees, honours and charitable work
1965, completed Post Graduate Diploma in Archaeology from the London Institute of Archaeology-named outstanding student of the year
Honorary lecturer at the University of Durham
Fellow of the Society of Antiquaries
1971, founded and endowed the Robert Kiln Charitable Trust
1977, founded the British Archaeological Awards and chaired them until 1982
1990, awarded Honorary Doctorate by Sheffield University
The background to Robert J Kiln's contribution to reinsurance
Before Robert J Kiln set up the Lloyd's managing agent RJ Kiln & Co in 1962 and struck out on his own as the lead underwriter on Syndicate 510, he was already a leading figure in the reinsurance market.
He was a man who believed in technical excellence, strong relationships, good communication, personal responsibility and individual endeavour.
During the early part of his career with CT Bowring he was the senior deputy underwriter to Len Durham and played an integral part in introducing and developing new ideas and products that are still in use today.
During the late 1940s and the 1950s, Robert J Kiln and the team became leading figures in the reinsurance market in the following areas:
Underwriting of risk excesses rated on exposures & burning cost
Sliding scales of commission for treaties
Excess of loss reinsurance in Europe and the world, excluding the USA
Reinsurance of the first captive insurance companies
Excess aggregate reinsurance (stop loss)
Indexation of liability (casualty) excess of loss reinsurance
Having worked on the team that either invented or significantly developed these aspects of reinsurance, Robert J Kiln quickly became one of the acknowledged reinsurance leaders in the non-marine property field in London.
He then took this expertise and developed it further as lead underwriter for Syndicate 510.
Robert J Kiln's personal contribution to the market

Insurance and reinsurance writings
Not content simply to be a practitioner in the Lloyd's market, Robert J Kiln was a visionary who looked to drive improvements wherever possible.
In 1968 he took it upon himself to outline his thoughts for the future of Lloyd's and set out how it could evolve for the better. The resulting work was a pamphlet entitled: Whither Lloyd's?
He formally submitted it to the Committee of Lloyd's, of which he was not yet a member, actively pushing for change.
In this document, Robert J Kiln suggested a number of original and innovative ideas for the time.
Here are just some of his proposals from Whither Lloyd's? that were subsequently taken up:
The introduction of Corporate Names
Standard Agency Agreements
Women should be admitted to the underwriting room at Lloyd's
Improved training
The need for better long tail liability reserving
A separate audit for very long tail liability business
Divestment
The reorganisation of the Committee with full time board members

Not only were Robert J Kiln's ideas progressive from a commercial point of view, they were also socially and culturally ahead of their time. Creative, innovative and prepared to speak out, Whither Lloyd's? was a real example of where Robert J Kiln effectively agitated to improve the entire market.

However, the written work that really stands as an appropriate epitaph to Robert J Kiln is his book, Reinsurance in Practice, published in 1981.
This seminal text collated the entire canon of reinsurance thinking into a single volume, adding Robert J Kiln's own valuable insights and additions.
It is, perhaps, best to let others comment on the importance of this book to the reinsurance market and their comments follow.
Robert J Newhouse, former President of Marsh, said: "This text should be required reading not only for those interested in becoming involved in the reinsurance business but also those who are active reinsurance practitioners. It can also provide insurance professionals with a better understanding of the inter-relationships between insurance and reinsurance.
"Bob Kiln is regarded as the 'professional's professional' by those in the reinsurance business and is acknowledged by them for his many contributions to our business, of which Reinsurance in Practice is one of the most important."
Maurice R Greenberg, President and Chief Executive Officer American International Group, said: "The insurance industry, though worldwide in scope, is a small fraternity and its leaders are known worldwide. Some of them are recognized because they head a particular company or organisation; others are acclaimed for their skill and the outstanding contributions they have made to our business. Bob Kiln is one of those."
Following the publication of Reinsurance in Practice, Robert J Kiln then published Reinsurance Underwriting (1985). This was a most thoughtful follow-up, focusing as it did on practical illustrations.
It contains over 30 slip examples with underwriting information and comment to help readers really get a feel for the practical aspects of reinsurance underwriting.
These works are a significant and lasting contribution to the reinsurance industry. They continue to educate practitioners in the market today and inform much of the thinking that takes place in the reinsurance sector.

New wordings
In the 1960s, Robert J Kiln, along with a number of the other lead reinsurance underwriters, had become worried about the existing catastrophe wordings that were in use.
Reinsurance contracts were open to a wide degree of interpretation as to the coverage provided. In particular this revolved around effectively defining what the events being protected by the reinsurance contract actually were.
As a result of inadequate clarity within the contracts, the expectations of buyers and reinsurers were often different, resulting in uncertainty over coverage and frequent disputes.
As a member of the Non Marine Association's Committee, Robert J Kiln was appointed to take part in a sub committee of the Reinsurance Offices Association that was considering a new catastrophe wording.
Following infertile discussions, there was little constructive progress made towards developing a new standard contract.
Always a man of action, Robert J Kiln therefore endeavoured to draft the wording himself and he named it RJK ('A').
He then put this wording forward to the sub committee and following further discourse he reworked it with comparatively few changes as RJK ('B').
The Reinsurance Offices Association and the Non Marine Association both approved the wording and it was registered with the Lloyd's Policy Signing Office as LPSO 98.
Immediately afterwards, an RJK Excess Aggregate Wording was drafted.
Written in a language that a layman could understand, these wordings immediately brought clarity to any particular loss and limited it effectively in both time and space.
They were simple and flexible and established a basis on which losses could be paid rather than creating a maze of technicalities which could be used to contest claims.
The wordings were quickly adopted and became the standard catastrophe and excess aggregate wordings used for all international business outside the USA.
Retrocessionaires also accepted the wordings, making it easier for reinsurers to lay off their own risks.
Incorporating a 72 hours clause to define the timeframe of a single event, the catastrophe wording has stood the test of time and is still in use today. Indeed, in 2009 the International Underwriting Association looked into the validity of the wording for today's market and commented:
"In considering the operation of LPO98, the working party concluded that hours clauses – including LPO98a - were still widely used. It was particularly noted that they offered clarity as to what limit would be applied following a catastrophe. The working party observed  that there was no case law on the applicability of the hours clause and that this, coupled with the fact that other clauses have found it hard to gain leverage in the market, was evidence of its enduring appeal. It was therefore agreed that it would not be appropriate to draft a new clause."
LPSO98 continues to be the market standard to this day and still remains the basis for most property catastrophe reinsurance contracts written outside the USA. The wording has subsequently been used in tens of thousands contracts and with a very low number of disputes arising from it.
It has therefore played a significant role in building today's property catastrophe market place where contracts for many billions of dollars are transacted annually.
Reinsurance of Captive insurance companies
While the creation of new wordings and the wide acceptance they enjoyed demonstrates Robert J Kiln's understanding of the issues at hand, his ability to forge something better for the future and his widespread positive influence on the reinsurance market, there were also other areas where his involvement was hugely significant.
Although captive insurance companies were in existence in the early part of the 20th century, they were not widely used and they were only really seen as viable options for a limited number of organisations.
However, working with Frederic Reiss from the late 1950s onwards, Robert J Kiln helped make the concept a reality for the mass market.
Frederic Reiss was a loss prevention engineer and is credited as the father of the modern day captive insurance market. The first company he worked with to create a captive was the Youngstown Sheet and Tube Company.
Unable to find insurers prepared to offer higher deductibles for putting excellent risk management procedures in place, he came to London and spoke to reinsurers in Lloyd's.
Robert J Kiln bought into the concept and was prepared to underwrite cover along the lines suggested. This reinsurance cover then enabled Frederic Reiss to set up the Mahoning Insurance Company, owned by the Youngstown Sheet and Tube Company, to cover its lower level losses, with the larger ones covered by the reinsurance.
In this way he was able to get round the insurers' refusal to offer higher deductibles for better risk management and he enabled companies to utilise captive vehicles to cover their risks.
After working with Frederic Reiss on his first captive, Robert J Kiln went on to provide cover for many more similar ventures as the market became ever more popular and sophisticated. However without the reinsurance, it would have struggled to ever find its feet.
Personal and ethical approach
Over and above being technically excellent, Robert J Kiln understood the personal aspect of reinsurance better than most and he actually referred to reinsurance as: "The art of underwriting people."
Keen in his observations and intelligent in his deductions and assumptions, Robert J Kiln also made it easy for others to do business with him, by dint of his personal integrity, approachability and forthright nature.
His philosophy to business was highly ethical and is outlined in his own words in a book he wrote entitled: Kilns, the First Twenty Years.
He says: "We made it quite clear from the outset that we were prepared to quote terms to any broker we trusted on any business, but once we were on a piece of business, even as a follower with a small line, we would never quote against the leader."
Similarly, quotes made to one broker were available to others with a genuine authority from the client and variations and alternatives were discussed and made available to all involved parties.
This upfront and honest approach characterised Robert J Kiln, along with his ability to quickly tackle issues in both a diplomatic and direct manner.
A seminal role in the creation of the Reinsurances Offices Association of America
In 1968 Robert J Kiln took it upon himself to spend a month in America, travelling around the major cities and trying to forge closer links between Lloyd's and the USA's reinsurance market.
The trip came on the back of the capacity issues the reinsurance market was dealing with at the time and was aimed at finding ways of working collaboratively to the benefit of reinsurers on both sides of The Atlantic.
At one meeting in New York, Robert J Kiln's reputation was enough to secure the attendance of the heads of virtually all the USA's reinsurance companies. Ironically, it became clear that many of these reinsurer leaders had never actually met each other. Their meeting with Robert J Kiln was also an opportunity for them to speak face-to-face for the first time.
Impressed by the results of their frank and constructive exchange of views and convinced of the importance of meeting more regularly, the business heads went away and founded the Reinsurance Offices Association of America later that year.
International Business
Robert J Kiln was not just keen to promote good international relationships, but he was also keen to foster strong international trade.
While the USA represented the biggest potential market, his philosophy of trying to match 50% of his USA book of business with 50% from other territories helped to spread his exposures and spread Kiln's influence.
A truly global underwriter, Robert J Kiln led business in Australia, New Zealand, Canada, South America, Central America and the Far East. He wrote motor and other business in France and also led Israeli catastrophe programmes.
One area of particular note was Japan, which following the Second World War was not a fashionable place to write business. However Robert J Kiln forged relationships there which have lasted until the present day.
Indeed, relationships that were set up with Tokio Marine back in 1962 have since evolved and the Japanese insurer is now the owner of Kiln, following a successful takeover bid in 2007.
Leading the market to settlement in Nicaragua

As a leading figure in the reinsurance market, renowned for his constructive thinking, Robert J Kiln was often called upon to lead and represent the market in difficult situations.
In 1974, the problems in settling claims from the earthquake in Nicaragua were to again show the esteem in which Robert J Kiln was held by his peers and his ability to find a way through a taxing problem to a fair and swift resolution.
Following the earthquake, the Nicaraguan dictator General Samosa had insisted that all losses were paid as fire losses. However different UK and US standard wordings meant that many of the losses would not be covered as fire losses.
Indeed unless there were specific extensions in place, many policies offered no cover at all for either the earthquake or the subsequent fire damage.
Not prepared to be held to ransom by General Samosa, but struggling to know what to do if Nicaraguan courts verified all losses as fire losses; the major American and European insurers and reinsurers involved asked Robert J Kiln to lead the market response.
Initial negotiations in Mexico City proved fruitless and under the threat of punishment from General Samosa, the Nicaraguan companies were unable to bring any sort of compromise to the table.
Robert J Kiln established exactly what the international insurers and reinsurers were prepared to pay as defined by the policies they had issued and the cover that was in place.
He also agreed to put the Nicaraguan companies in funds to pay claims and establish a loss assessing team on the ground to make sure matters were handled fairly and properly.
To back up this plan, Robert J Kiln also said that if General Samosa continued to insist that all losses were paid as fire losses, there would be no payment made and legal action would have to be taken to recover individual losses.
This ultimately made it impossible for General Samosa to turn down the settlement as he would have had to sue the international insurers and reinsurers through a string of different courts, the practicalities of which he would have struggled to manage.
The proposal was accepted and meant that a fast and fair resolution was found with valid claims paid promptly.
This particular case highlights the ability Robert J Kiln had to untangle seemingly intractable issues and the esteem with which his peers and colleagues held him. They also exemplify his desire to see fair claims paid quickly, underlining his ethical approach to business.
Robert J Kiln's wider contributions to society
The British historian and archaeologist Professor Charles Thomas referred to Robert J Kiln as: "The greatest individual benefactor to British archaeology in this century." [20th Century]
Archaeology was Robert J Kiln's passion away from the pressures of work and aside to the devotion he had for his family.
In 1971 he founded the Kiln Charitable Trust and by the time of his death in 1997 it had distributed funds in excess of £1m to conservation, archaeology, music and education charities.
His financial endowment of the trust was supported by a huge investment of his own personal time in archaeology and Robert J Kiln was responsible for the founding of the Hart Archaeological Unit in 1973. He also served as chairman of the East Hertfordshire Archaeological Society.
He made a critical contribution in the formative years of RESCUE, the British Archaeological Trust; acting as its first treasurer and providing office space for its operations.
Alongside the financial and organisation skills that Robert J Kiln brought to the archaeological world, he also had a passion for getting his hands dirty and working on digs around the country and particularly in his local area of Hertfordshire.
In addition to his reinsurance books, Robert J Kiln also found time to write, Ware and Hertford: the Story of Two Towns, which he co-authored with Clive Partridge and which was published in 1994.
Conclusion
It is difficult to ignore Robert J Kiln's lasting contribution to the insurance and particularly the reinsurance market and it is one that has already stood the test of time.
His influence will continue to be felt for years to come and the words of Sir David Rowland are a fitting tribute to the man.
"It was only when I became intimately concerned with the workings of the Lloyd's market that I came to realise just how perceptive Bob Kiln had been.
"He established and led his own business with an outlook and standards which should have been as model for others. He sought audience for his views, but too often he was rebuffed by the establishment. Throughout his working life his professionalism and originality of approach inspired his own team."

Nominator: Ms. Laura Guerin, PR & Communications Executive, Kiln Group, London
Seconds: Sir David Rowland,
Mr. Clive O'Connell