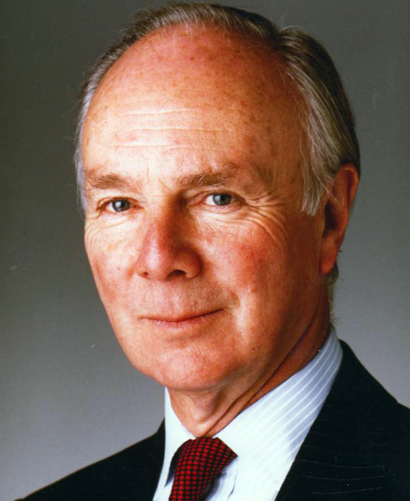 United Kingdom
2009
Sir David Rowland as Chairman of Lloyd's of London guided the 300-year old enterprise through a threatening financial crisis, initiating reforms set in motion in 1993 to save it, and thus averting the collapse of the venerable British institution.
Situation:

In the late 1980's, a strong of large claims brought massive losses to bear on Lloyd's. These included claims stemming from marine disasters (1989 Exxon Valdez oil spill for example) combined with disasters including the San Francisco earthquake and Hurricane Hugo, both in 1989. Lloyd's had a massive shortfall, a net loss in 1988 of 509 million pounds. At the same time Lloyds 'U. S. operations were hit with liability for disability caused by asbestosis and for pollution damage. Faced with ruin, thousands of Names of Lloyds' refused to honor their debts, instead launching pre-emptive lawsuits against Lloyds for recourse. Lloyds' membership shrunk to less than 10,000 by the late 1990's. With individual and syndicates failures mounting, Lloyd's racked up five consecutive losses totalling $12.4 billion from 1988 through 1992.
Accomplishments:
As Lloyd's experienced overwhelming financial losses in the 1990's due to losses and litigation, particularly as regards environmental claims, Sir David assessed and developed a solution to Lloyd's financial crisis.
For the first time in its history, Lloyd's permitted corporate and institutional investors to underwrite policies. The first corporate members joined the organization in 1994, in a revolutionary departure from long-held principle of unlimited liability.
Lloyd's restricted individual Names' financial obligations to 80 percent of premium income, with excess losses reverting to a reserve funded by annual membership dues.
Lloyd's then created a reinsurer named Equitas in 1993, to assume all liabilities incurred by Lloyd's prior to 1993. The new entity was funded by 859 million pounds levied on Lloyd's remaining members.
In 1996, a final step in the recovery plan, Lloyd's adopted annual accounting and achieved a 3.l billion pound settlement with litigants after a long and bitter standoff.
Sir David continued to make changes into the late 1990's to keep Lloyd's the largest and most innovative insurance market in the world. In fact, its overall assets increased from 17.9 billion pounds in 1990 to 27.3 billion pounds in 1995. With all of the challenges, Lloyd's returned to probability in 1993.
Implications of Accomplishments:
The financial crisis at Lloyds's compelled extraordinary changes and leadership to maintain Lloyd's health and position in world markets. This leadership was provided by Sir David.
Sir David had the interpersonal skills to build consensus and get people to trust his plan.
Sir David broadened the choices for consumers and ensured the availability of insurance coverage for specialized needs, thereby enhancing the insurance industry's capabilities and service worldwide.
After the recovery of Lloyd's, Sir David was active in bringing in new innovations to Lloyd's to give it flexibility and strength to endure future events in a new era of catastrophic events.
As Lloyd's experienced its crisis, the insurance industry benefited from its example and learned how to manage through catastrophic events, such as the 21st. Century's terrorist attacks, political violence and technology risks, and compensation claims.
Because of Sir David's management and leadership, the insurance industry worldwide has taken note and is today placing risk management in a prominent place in their management priorities.
A final historic note: The successful completion of the reconstruction program for Lloyd's was marked by the ringing of the Lutine bell in the underwriting Room at Lloyd's by Sir David. While this historic bell was traditionally sounded once for bad news and twice for good news (ship wreaks or safe arrivals), that day the bell was rung first to regret at the pain and suffering which losses wrought upon members. Second, to mark pleasure at having reached their destination with the help and support of so many. And third, to signal the beginning of a new journey to consolidate this market's reputation as a center of insurance excellence.