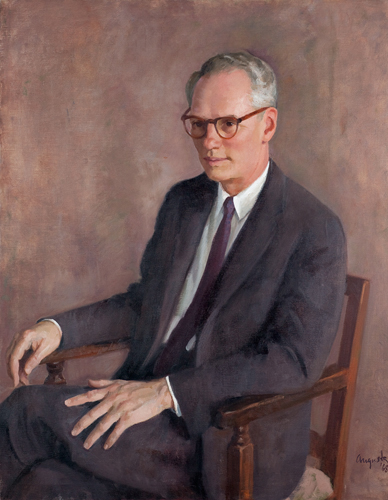 USA
2010
William C. Greenough, the creator of the variable annuity, was an innovator in the field of pensions and insurance during his leadership and 40-year career at TIAA-CREF, the leading provider of retirement financial services for individuals and institutions in the academic, research, medical and cultural fields.
In 1950, Dr. Greenough conceived the idea of a variable annuity, which would invest in a diversified fund of common stocks. At that time insurance companies sold only traditional fixed-income annuities. Two years later, the Teachers Insurance and Annuity Association of America (TIAA) established the first variable annuity when it created the College Retirement Equities Fund (CREF), which today is the world's largest provider of variable annuities.
For the insurance industry, the concept made possible the addition of an entirely new class of pension and insurance products. For millions of Americans it meant a more financially secure retirement. Dr. Greenough's invention has had a global influence on pension fund management and investment.
Summary of Positions
President and then Chairman of TIAA-CREF, a nationwide financial services organization for U.S. higher education and today one of the world's largest retirement systems, from 1957 to 1979. He joined the company in 1941, became vice president in 1948, executive vice president in 1955, president in 1957, chairman and president in 1963, and chairman and CEO in 1967, holding these positions until his retirement in 1979.
Awards and Honors:
Lifetime Career Achievement from Pension World, 1989
Boettner Lecturer, Boettner Research Institute, AmericanCollege, 1989
Founders' Award Gold Medal from the International Insurance Society, 1984
Huebner Lecturer, University of Pennsylvania, 1954, 1968
Elizur Wright Award, 1960
Major Contributions to the Insurance Industry and their Impact:
In 1950, Mr. Greenough devised the variable annuity concept, which introduced the then- revolutionary idea of an annuity based on "units" rather than "dollars," a concept now used worldwide in group and individual variable annuities and insurance.
His 1951 study, A New Approach to Retirement Income, provided the economic and statistical basis for the College Retirement Equities Fund (CREF), established in 1952 as the world's first variable annuity.
Through his pioneering work on the variable annuity, Mr. Greenough helped establish a trend that brought the insurance industry into pensions and annuities. The first step was removing the fear of using common stocks for funding long-term pension obligations and spurring the industry's development of separate accounts. The second was the establishment of a new class of products, variable annuities, available to funders of pension plans and to individuals who were saving on their own for retirement.
TIAA-CREF developed principles for long-term investment strategies for retirement savings, incorporating dollar-cost averaging and investment diversification. Under his leadership, CREF became one of the first institutional investors to start an investment program in foreign stocks.
TIAA-CREF embraced many innovations in pension structure and philosophy over the years, which were later adapted by the industry at large, including: full and immediate vesting, joint employer-employee contributions, and third-party supervision. TIAA-CREF and Mr. Greenough supported tax incentives for retirement saving that led to a milestone revision of the US tax code in 1958 for non-profit organizations and encouraged development of a new insurance product, tax-deferred annuities.
Mr. Greenough's leadership extended the role of TIAA-CREF in the 403(b) market for teachers and built that market into a powerful asset for the non-profit sector. During his four decades with TIAA-CREF, the assets of the company grew to be 100 times as large as when he joined, while the number of participating educational institutions increased ten-fold.
TIAA-CREF retirement plans demonstrated the effectiveness of tax-deferral for individual retirement savings within statutory limits, a pioneering step that later was extended more broadly by federal legislation that established 401(k) plans, individual retirement accounts and Keogh plans for the self-employed.
The success of the TIAA-CREF combination of fixed and variable annuity investment accounts led to substantially increased recognition of the value of the defined contribution approach to pension planning throughout business and industry in the United States.
TIAA, WILLIAM C. GREENOUGH,
AND THE INVENTION OF THE VARIABLE ANNUITY
In 1918 the Carnegie Foundation for the Advancement of Teaching created the Teachers Insurance and Annuity Association of America, a fully-funded system of pensions for employees in higher education and research. Designed by educators for educators—those who work for "the greater good"—TIAA offered a pioneering system of contributory, portable annuities and low-cost individual life insurance. TIAA retirement plans accepted regular contributions from participating institutions and individuals. Thirty public and private institutions enrolled during the first year of operation.
The financial strength of TIAA, its capable management, and sound pension philosophy steadily attracted colleges, universities, research institutions and non-profit secondary schools with TIAA retirement plans. By the beginning of 1940, 188 colleges and universities had TIAA plans, covering almost 36,000 employees.
Mr. Greenough joined TIAA as assistant to President Henry James in 1941. After wartime naval service from 1943-1945, he returned to TIAA and its new president R. McAllister Lloyd.
The post-World War II period was exciting and challenging, marked by a boom for higher education and TIAA's business that was driven by federal education benefits for veterans. Mr. Greenough's leadership abilities were soon recognized and he was appointed a vice president in 1948. He wrote his first book, College Retirement and Insurance Plans (Columbia University Press, 1948), which was accepted as his doctoral dissertation by Harvard University.
During the 1940s inflation in the U.S. averaged more than 7% per year, hitting a record 18% in 1946. TIAA's 1950 Annual Report gave a sobering account of inflation's toll on retired college staff members and widows and children "trying to stretch a fixed and limited income over increasing expenses." Mr. Greenough realized that annuities needed to be able to support retirees even through periods of high inflation.
On a spring 1950 visit with colleagues at his alma mater, Indiana University, Mr. Greenough came up with the idea for a "variable annuity," based on long-term, periodic investment in a diversified fund of common stocks. Premiums for a variable annuity certificate would purchase not dollar guarantees but units of participation in a portfolio invested in common stocks.
Mr. Greenough discussed his revolutionary idea with TIAA colleagues and with a number of economists and investment experts, overcoming initial resistance and skepticism. By early 1951, TIAA's management and trustees were committed to planning a new equities fund companion organization to TIAA. It was designed and launched in 18 months. Mr. Greenough's landmark 55-page economic study, A New Approach to Retirement Income (TIAA, 1951; reprinted 1952, 1955, 1964) was awarded the Elizur Wright Award (now known as the Kulp-Wright Book Award) in 1960.
The conclusions in A New Approach to Retirement Income still hold true today. Investing retirement savings solely in fixed-income instruments is unwise, because of the inflation risk. On the other hand, market risk makes the sole use of equities unwise as well. A combination of the two, invested over the long-term, offers the best prospect of protecting lifetime retirement income both from fluctuations in stock prices and depreciation in the value of the dollar.
The overwhelmingly favorable response from educators, together with support from prominent business leaders, led to the founding of the nonprofit College Retirement Equities Fund (CREF), the world's first variable annuity, on July 1, 1952. That same year Samuel W. Bryant, an editor at Fortune magazine, wrote to a colleague: "I think this is the biggest development in the insurance/investment business since the passage of the Social Security Act."
During the 1970s and 1980s TIAA-CREF continued to develop new solutions for building retirement assets. CREF was one of the first companies to add a portfolio of international stocks as part of its investment strategy. CREF now offers nine variable annuity retirement accounts. The original CREF Stock Account, with $80.62 billion in net invested assets as of June 30, 2009, has generated an average annual total return of 9.43% since inception.
CREF has posted a total return of -27.61% over one year through June 30, 2009, -0.84% over the past five years and -1.04% over the past 10 years. That compares to a return of -27.47% for the past year, -.67% over the past five years and -0.69% over for the past 10 years for the CREF Composite Index, our benchmark for the CREF Stock Account which is comprised of four indexes including the Russell 3000.
The performance data quoted represents past performance and is no guarantee of future results. Your returns and the principal value of your investments will fluctuate so that your shares [accumulation units], when redeemed, may be worth more or less than their original cost. Current performance may be lower or higher than the performance quoted above. For performance current to the most recent month-end, visit the TIAA-CREF Website at www.tiaa-cref.org, or call 877 518-9161.
IMPACT OF THE VARIABLE ANNUITY
The invention of the variable annuity and the success of CREF have had a profound impact on the insurance industry. By the mid-1960s, life insurance companies rapidly entered the variable annuity market and most states had laws allowing separate accounts. At the end of 2008, total US variable annuity net assets exceeded $1.1 trillion. Variable annuities now encompass a wide variety of asset choices, including money-market, fixed-income, equity, and flexibly-managed annuities.
Still, the original CREF variable annuity has advantages that continue to attract interest around the world. It is fully portable, a significant improvement over traditional pension arrangements in many countries. In addition, and very importantly, the variable annuity is valued in terms of its assets rather than its liabilities. In a variable annuity, by definition, the assets are always equal to the liabilities. This was a revolutionary development in the insurance industry.
Internationally, governments face the prospect of large unfunded pension liabilities. Reforms to pension systems that introduce defined contribution arrangements similar to the TIAA-CREF system and featuring variable annuities are attracting interest and have the potential to greatly reduce the unfunded liabilities that currently exist.
* * * * * *
WILLIAM C. GREENOUGH'S CONTRIBUTIONS TO SOCIETY
William C. Greenough was also active in public policy issues. He was an early advocate of strong corporate governance standards, and called on portfolio companies to exercise social responsibility in their business decisions. The New York Times in 1971published his article on the responsibility of institutional investors in society. He was one of the first public directors of the New York Stock Exchange in 1972, when its governance was reorganized, until 1982, and he served as Chairman of its Quality of Markets Committee during 1981-82.
His 1968 Huebner Lecture at the University of Pennsylvania, "Pensions are for People" proposed that the college world's defined contribution system (also known as 403(b) plans), could serve as a model for new federal regulation of pensions for the general public. To encourage retirement savings, he advocated tax-deferral for individuals of up to 20% of income set aside for retirement in approved systems. He further stressed the importance of individual ownership of funds with immediate or early vesting and full disclosure of plan investment policy, provisions and administration.
Testimony in 1972 from Mr. Greenough helped lead to the Employee Retirement Income Security Act of 1974 (ERISA). Legislators drew from TIAA-CREF's example in developing many of ERISA's vesting, reporting, and disclosure provisions.
In 1979, Mr. Greenough was appointed by President Carter to be a member of the President's Commission on Pension Policy, which issued its final report to Congress in 1981, strongly endorsing the voluntary expansion of private pension plans and private savings for retirement. In 1989, Pension World honored him with a Lifetime Career Achievement award.
He authored or co-authored five books on pensions, including a history of TIAA-CREF completed shortly before his death: It's My Retirement Money--Take Good Care of It: The TIAA-CREF Story (Homewood, Ill.: Richard D. Irwin, Inc. for the Pension Research Council of the Wharton School, University of Pennsylvania, 1990).
An economist, Mr. Greenough held degrees from Indiana University and a Ph.D. degree from Harvard University. After graduate study at Harvard, he returned to Indiana University as Assistant to the Dean of the School of Business and Instructor. Before joining TIAA he was Assistant to the President of Indiana University.
Upon his death, tributes poured in regarding his contributions, including this one from Paul Samuelson, Nobel Laureate in Economics and former CREF trustee: "William Greenough was personally the innovator of the variable annuity, an important development in the field of life cycle pensions. Few people get the chance to play such a pivotal role in such an important field."
He was a towering figure in the pension and insurance world.
* * * * * *
Sources: TIAA-CREF; American Council of Life Insurers; LIMRA International InfoCenter; Insured Retirement Institute (formerly NAVA).
Please note all TIAA-CREF investment products are subject to market risk and other risk factors.
Annuity account options are available through contracts issued by TIAA or CREF. These contracts are designed for retirement or other long-term goals, and offer a variety of income options, including lifetime income. Payments from the variable annuity accounts [and mutual funds] are not guaranteed and will rise or fall based on investment performance.
Mutual funds do not offer the range of income options available through annuities.
Annuity products are issued by TIAA (Teachers Insurance and Annuity Association), New York NY.
You should consider the investment objectives, risks, charges and expenses carefully before investing. Please call 877-518-9161 or log on to www.tiaacref.org for a current prospectus that contains this and other information. Please read the prospectus carefully before investing.
TIAA-CREF Individual & Institutional Services, LLC and Teachers Personal Investors Services, Inc., members FINRA, distribute securities products.
©2009 Teachers Insurance and Annuity Association-College Retirement Equities Fund, New York, NY 10017